The latest comments from Marko Arnautovic's brother are "absolute rubbish", according to reliable source ExWHUemployee. 
The West Ham forward has started angling for a move away from the club again, as reported by Sky Sports, despite signing a new contract in east London in January after another failed exit attempt.
And now his brother and agent, Daniel, has spoken out on the situation again, claiming that the 30-year-old is being "used" by the Hammers, as shown in a tweet from Don Hutchinson.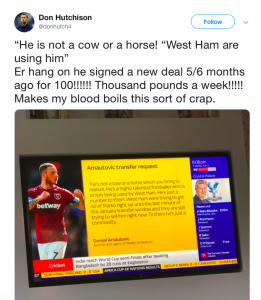 But ExWHUemployee has disputed the claims.
Speaking on the West Ham Way podcast, he said: "He's tried to blame the club for the fact that we're trying to sell him. He's twisting it now, saying that it's West Ham trying to sell Arnautovic, rather than him trying to get Arnautovic a move.
"It's absolutely ridiculous because we wouldn't have given him a £20,000 pay increase in January to make him out highest paid player if we were wanting to go an sell him in the summer.
"Absolute rubbish."
OPINION
Ex makes a very valid point here. Why would a club go to the effort of fighting for a player in January, convincing him to stay, offering him a pay rise and everything, only to ship him out in the summer? It's a nonsensical notion, and one that you would expect West Ham fans to see exactly for what it is – a con. As for Arnautovic himself, get rid. The fact that he has been happy enough to pay lip service to the club and to take their money for the past few months, knowing full well that he was going to pull the same stunt again in the summer, shows exactly where his head is at, and for a club as loyal and promising as West Ham, that is just about the last kind of presence you need in the dressing room. Sell him on, take the cash, and reinvest it in somebody who will be proud to wear the claret and blue, rather than seeing it as a stepping stone to next big money move.