Marko Arnautovic's reemerging desire to leave West Ham this summer is regarded as the "last straw" by most people at the club, according to reliable source ExWHUemployee.
The Austrian is reportedly keen to push through an exit from east London, as reported by Sky Sports News, after having signed a new contract with the club in January following a similar attempt to force through a move to China.
And ExWHUemployee has claimed that many are viewing this latest development as the point of no return for the 30-year-old.
Writing on his personal Twitter account, when asked how Pellegrini had taken the news of Arnautovic's desire to go, he said: "Not sure but I know most people are majorly ****** off and that this is the last straw".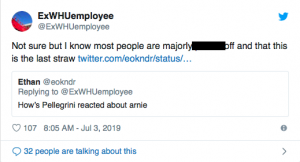 OPINION
It's no surprise that people are fed up with Arnautovic. Chucking his toys out of the pram in January and trying to force through a move to China is one thing, and he wouldn't have been human if his head hadn't been turned by the exorbitant amount of money on offer from the Far East, but to then sign a new contract, pay lip service to the Hammers, and then pull the same stunt again in the summer ks downright disgraceful. Nobody could blame the Austrian for going where the money is, even if it's not what you might do personally, but to milk the club for a better wage for a few months, biding his time, waiting for another opportunity to get away, shows a complete lack of respect. West Ham shouldn't be held to ransom, but as soon as they get a decent offer for the forward, they should drive him to airport themselves.