OPINION
Mark Goldbridge gave his thoughts on West Ham asking about Scott McTominay's availability while discussing Issa Diop with Manchester United and in the process insulted the London club.
Sky Sports reported on Wednesday that Manchester United were in discussions with the Hammers about Diop, despite the London club wanting to keep him, and while in talks the Hammers asked about the 22-year-old midfielder.
Goldbridge, who is the host of the United Stand, then took to his personal Twitter to share that if the Hammers wanted McTominay as part of a deal for Diop, then he'd happily agree to it.
The YouTube personality, who has 475,860 subscribers, claimed that McTominay would be nothing more than a bench player at Old Trafford but at West Ham he could make it.
Goldbridge then took a sly dig at Ole Gunnar Solskjaer by stating the Norweigan manager wouldn't sell the 22-year-old to the Hammers as he clearly thought the midfielder was first-team quality.
If West Ham want McTominay as part of the Issa Diop deal I'd do it yesterday. Never going to be anything more than a bench player where as at West Ham he could make it. Ole won't do it though. Thinks Scott is 1st team quality

— Mark Goldbridge (@markgoldbridge) June 19, 2019
However, while Goldbridge didn't hide his dig at Solskjaer, his dig at the Hammers may go unnoticed.
After all, why does the YouTube personality think that a player not good enough for Man United's team will have more of a chance at the Hammers as they're no longer leaps apart in terms of quality and ambition.
It's insulting to the Hammers.
Manuel Pellegrini's side finished 10th in the Premier League, 14 points behind Man United in their 2018/19 campaign, and could easily close the gap on them in the upcoming campaign.
This is especially the case when you consider Man United finished 6th, and Pellegrini previously revealed in January, as quoted by the Evening Standard, that he was aiming for the Hammers to "reach" the top-six.
Aside from that, Goldbridge is disrespecting the Hammers as he is underestimating the midfield talent they already have on their books.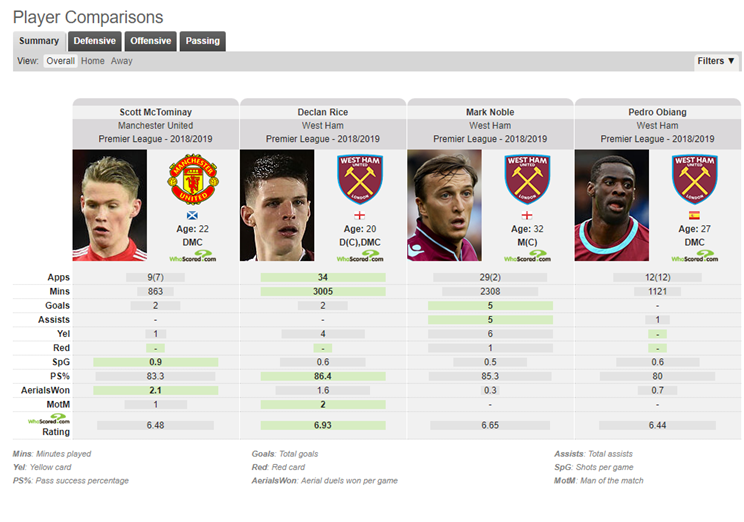 According to WhoScored, Mark Noble and Declan Rice both have a superior pass completion rate compared to McTominary's 83.3% despite both featuring significantly more in their 2018/19 campaign, they've played over double the minutes he has.
The Hammers duo also have a superior average match rating than McTominay despite playing more games, and Pedro Obiang is only 0.04 behind McTominay's rating despite playing more and having to deal with coming off the bench a lot.
While Noble and Obiang are significantly older than McTominay they offer experience and it's not like the Hammers don't already have a young midfield option in the form of Rice to count upon as he is in fact two-years younger than the Man United player.
And that's before you take into account the promising young midfielders like 19-year-old Connor Coventry, who are eagerly awaiting their chances to get more first-team opportunities at the London Stadium.
The other reason why Goldbridge is disrespecting the Hammers is because he would happily take Diop despite the centre-back only ever proving himself in England by featuring for the Hammers' first-team, yet he views the London club as being good enough for players who barely feature at Old Trafford.
So Goldbridge is wrong to suggest McTominay would fare any better at the Hammers and is disrespecting them by claiming a player he clearly doesn't believe is good enough for Man United, would pull up trees at the London Stadium.