Declan Rice has urged Chelsea youngster Mason Mount to join him at West Ham with a tongue in cheek Instagram post.
Mount spent this season on loan at Derby County, hitting 11 goals in all competitions for the Rams, but will return to his parent club having missed out on promotion to the Premier League in the play-off final on Monday.
But Rice wants him at West Ham.
Writing on the Irons' ace's personal Instagram account, Mount commented on a photo the 20-year-old posted on England duty.
A follower then responded: "Time for you [Mount] to wear the claret and blue".
Rice then replied: "I would love that".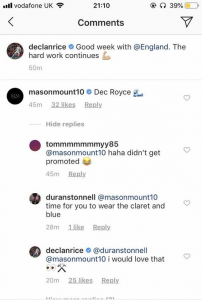 OPINION
Rice is just great isn't he? When he's not out there harrying attackers and crunching into tackles, he's acting as a recruitment agent for the Hammers. You can just tell by the way that he plays and carries himself that he plays football for what it is: a game. And who better to play football with than your mates? Rice will know Mount from his days in the Chelsea academy, and to be fair, the Hammers could do a lot worse than snapping him up. He has shown at Derby this season that he is a creative and exciting young talent, and one who looks more than capable of making the step up to top flight football. Given their likely transfer ban, it is hard to see Chelsea letting him go anywhere anytime soon, but if Rice can chip away at him and keep extolling the virtues of life in east London, who knows? Stranger things have happened, for sure.