West Ham United midfielder Declan Rice has gushed over Chelsea manager Maurizio Sarri after a magical moment on Wednesday night.
A video circulated on social media on Thursday after Sarri was filmed cradling his Europa League winners medal with what looked like tears in his eyes after his team beat Arsenal in Baku.
The triumph was the first of the Italian's 20-year managerial career, having traversed the depths of Italian football all the way to a Europa League victory with Chelsea.
Rice was certainly moved by the moment: "Love seeing stuff like this," he wrote on his personal Twitter account.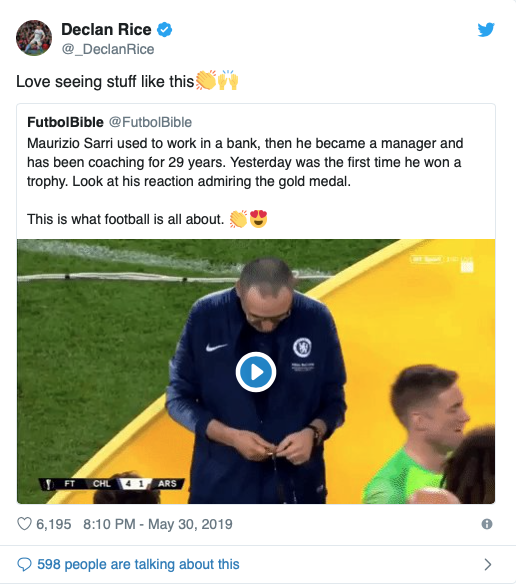 OPINION
While the Hammers faithful won't be happy to see Rice say that he loves seeing a Chelsea manager celebrate winning a trophy, you can't blame him in this particular instance. It was genuinely emotional watching Sarri look at his medal with such pride and with tears in his eyes. He's worked the last 20 years for a moment like that, including a debut season with the Blues were he has often been faced with vitriol from the club's supporters. So he deserved that moment on Wednesday and, as Rice says, you love to see that kind of genuine emotion in football. Plus, don't forget that Rice was a Chelsea player in his youth, before being released and joining West Ham where his career has flourished. Still, there's likely some part of him that is happy when his old team triumphs, and this occasion was no exception. It was a lovely moment, there's no doubt about it.