Many West Ham fans heaped praise on defenders Fabian Balbuena and Issa Diop for their displays during the 3-1 win over Manchester United on Saturday.
The Hammers cruised to a comfortable victory over Man United at the London Stadium and several players earned the praise of supporters on social media.
However the defensive partnership of Balbuena and Diop had a large section of Hammers tweeting positive opinions during their side's recent game.
One fan tweeted that the defenders were combination of actual dreams while another sent a message to supporters of other Premier League sides to say that the duo would easily deal with any forward they may face this season.
Forever West Ham have rounded up some of the best tweets below:
Dear Twitter and all other Premier League fans. Issa Diop & Fabian Balbuena will have your forwards in their pockets in every match until the end of time. Thank you. #WHUMUN #WestHam #COYI

— James Hodgkins (@JPH_WHU27) September 29, 2018
Mark Noble – fantastic. Balbuena & Diop – brilliant. Rice controlled that midfield once again. Anderson getting better game by game. Arnie & Yarmo, class. Zabaleta, quality. Team performance, love it. #WHUFC #COYI ⚒

— Reece Brooks (@brooksy2901) September 29, 2018
Fantastic today, Rice MOM for me but Noble deserved winner too.

Diop and Balbuena were immense at the back, Lukaku was almost non existent

Im a very happy Hammer ⚒⚒ #WHUMNU

— Darren 父 Cox (@hammersmad) September 29, 2018
Balbuena and Diop are forming a good partnership at CB. Diop is a beast, and Balbuena reads the game as well as any CB in the league. Zabaleta still proving his worth too; just concerned by Masuaku at LB. Love him going forwards, but defensively a bit weak.

— CresswellsMagicHat (@Cressysmagichat) September 29, 2018
Diop and Balbuena immense.
Can't argue with Noble bring motm.

— Paul Vincent (@v7nny7) September 29, 2018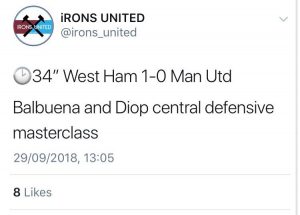 OPINION
Diop and Balbuena were fantastic against Man United and no wonder several Hammers supporters are singing their praises on Twitter. The pair  complement each other perfectly and seem able to continue to improve as a partnership as they get more games under their belt. It's interesting that lots fans rightly took to Twitter to highlight their central defender's performances as it was the club's attackers who stole the headlines. Yet while Man Utd didn't exactly put the Hammers' defence under tons of pressure as they struggled all over the pitch, Diop and Balbuena still had to be on top-form to deal with any danger. It'll be interesting to watch their partnership to develop as after having a leaky defence for the last couple of seasons, the Hammers may have found a duo capable of stopping them shipping goals for fun. It's also worth noting that while one fan was critical of left-back Arthur Masuaku, the defence as a whole looked very solid on Saturday.