OPINION
West Ham have got it spot on by pulling the plug on their reported pursuit of Barcelona defender Marlon Santos.
The Hammers have already signed one youthful centre-back who thrived in Ligue 1 last season. They don't need a second one.
Ex-WHU Employee, who leaves the established media trailing when it comes to delivering news about the Londoners, revealed in a transfer column on the West Ham Way site this week that a deal to sign Santos, 22, "was all but agreed but we decided to pull the plug on the deal" due to concerns about his height and physicality.
This comes after Mundo Deportivo reported West Ham were closing in on Santos for a fee of between £13.2million and £15.9million, and that "everything seems to indicate that the agreement is very close".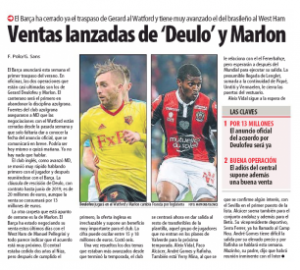 If Ex-WHU Employee says the Santos signing is off the table, you can bet your life that is the case, given his reliability.
It should also be a relief to Irons, given that the Brazilian, who spent last season on loan at Nice, stands at only 5ft 11in and would struggle to deal with aerial demands of the Premier League.
By contrast, £23million new signing Issa Diop is 6ft 4in and is also a level or two up in class.
West Ham would be better off investing the £15million-plus they could spend on a second new centre-back on a proven performer in the English league like Alfie Mawson.
That deal has gone quiet in recent times but the Swansea City man was the shining light for his club last season and has improved dramatically in the last few years since joining from Barnsley for £5million.
Mawson would be an ideal fourth centre-back for 2018-19 along with current senior triumvirate Diop, Angelo Ognbonna and Declan Rice.